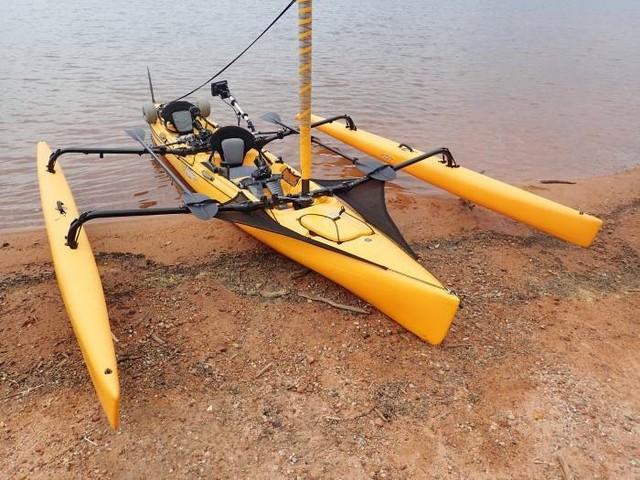 FOR SALE (sail).
$5000.00
Hobie Tandem Island: 2012.
Colour! Yellow (safest colour).
The Hobie Tandem Island is a 2 seater, whole family, fun sailing machine.
The Hobie Tandem Island lives in a locked garage.
Never left out in the sun (except when sailing).
1 sail.
Still in the original sail bag.
The mast is carbon fiber, 2 piece.
The sail can be furled (made smaller very easily on the fly).
2 Mirage Drives: Super efficient peddles.
2 Mirage Drive bags.
2 double bladed oars. The oars can be split in two, so you can use the oar like a 1 bladed oar.
2 compfy seats.
After a days sailing, the whole hull inside and out, seats and ropes, are always hosed down and flushed out with fresh water.
To hose the sail down is easy
Then you leave everything to drip dry.
$2000.00 PLUS in extras.
Trailer: Hobie trailer.
Brand new spare tyre, never used.
Auto greasing bearing savers fitted. Bearings cleaned, inspected, greased with marine grease last year.
Bearing savers fitted.
2 tubes of used grease.
1 Armorall spray. For the hatch seals.
1 silicone spray. For the Mirage Drives.
2 Life jackets (Hobie).
Spray skirts.
kayakingbob.
com/sprayskirt
PLB Personal Location Beacon (Aussie designed).
Lowrance fish finder. Used for the navigation feature only).
Mounting extension arm for the Lowrance.
Rudder pins, shear pins.
Flip rope: Never used it.
Railblaza mounts: For connecting Go Pros, phone holders, fishing rod holders,,, a huge range of addapters you can buy. https://www.facebook.com/groups/westozadventureisland/.